People always say, "there is power in your words," and I could not agree more. As marketers and storytellers, one of the beautiful parts of our jobs is our ability to change minds and shape thoughts with the words and images that we use. With our country in a state of social conscious awakening, we're hearing more and more language centered on diversity and inclusion. For those of us who work in multicultural advertising or DEI spaces, the language of 2021 echoed many of the concepts and ideas that we have been promoting for years – but wider recognition is an important step. Here are some words and phrases that I saw enter the cultural mainstream:
"… is not a monolith."
Fill in the ellipses with any of the following: Blacks, Asians, Latinos, or any other historically excluded group, and you had the beginning, middle, or end of several think pieces. It is never OK to assume that people who share a skin tone or a language are the same. This assumption ignores the rich complexity of intersectional identities. These differences should be embraced and celebrated. In doing so, we broaden our perspectives, find universal truths, and create space for true inclusion.
Representation Matters
Can we scream this at the top of every building? There will never be a time when all people of all colors, nationalities, beliefs, physical makeup, etc. should not be able to turn on a media device and see themselves. As we become more comfortable with this idea, who is represented and how begins to evolve. There is power in that connection. There is affirmation in that connection. The excitement around movies like Encanto, the reboot of The Proud Family, and the success of advertising for companies like ThirdLove and Savage X Fenty prove that. While the phrase may seems a bit cliché to some, the concept is not. Nor will it ever be.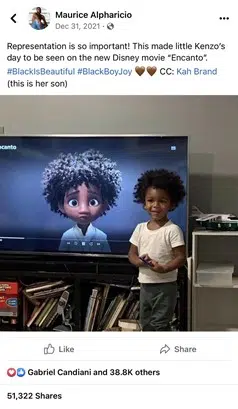 Historically Excluded
I first heard this phrase in June of 2021. So did a lot of other people, thanks to a popular Twitter post by Dr. Kelobogile Zvogbo: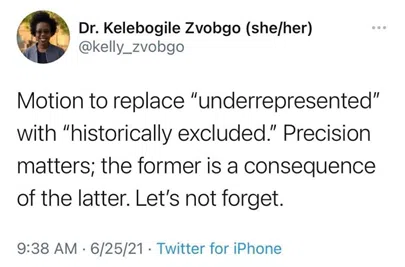 This post made tidal waves through the internet, and was liked and shared across platforms. Since this post, I have heard this term find itself comfortably in conversations where diversity and inclusion are being discussed.
Nuance or Cultural Nuance
This is one of my favorite words. Partly I just like the way it sounds…those deep vowels punctuated by the "S" at the end. But I also like what it means: "a subtle difference in or shade of meaning, expression, or sound". It reminds us that detail has value. It is not enough to have an exact translation of an English advertisement into Spanish. It is not enough to show animated characters that have the phenotype of a Caucasian and simply change their skin color to appeal to a different audience. Understanding cultural nuance – languages, mannerisms, attire, and other cultural cues – helps us create authentic, meaningful work.
New America
I will only talk about this phrase in reference to advertising. Like everything in life, The United States of America is ever-changing. The new interest in multicultural and inclusive storytelling does not negate the fact that those various identities have always been present. Diversity is and will always be fundamental to America's DNA. And today, people from more cultures, more body types, more physical abilities, and more gender definitions have the opportunity to see themselves in media. We as storytellers have the responsibility to ensure that these stories continue to be represented. This is not the "new" America. This is America.
---
My hope is that the aforementioned words and phrases will not just become the buzzwords of 2021, but lasting concepts that people really analyze, internalize, and understand. As advocates of multicultural and inclusive marketing, we want the conversations of today to have a direct effect on the behaviors of tomorrow. We want these words and phrases, but more importantly, their ideas, to be casually interwoven into the fabric…into the lives of future generations. For PACO, this is the work that we have been doing for years, and it is time for the rest of the world to catch up.
In some ways it seems a lofty dream. Many of the discriminations that my parents and ancestors faced are repeating themselves today. Understandably, it can be difficult to feel optimistic when the uglier parts of society take center stage. However, when I see the way conversations are evolving, when I look on news outlets and see people of color filling the screens as reporters and correspondents, when I see the diversity that rains into our governmental seats, or advertisements that have inclusive casts, my hope is restored.
Language evolves with our culture, and our language can change the culture. So 2022, give us a new set of buzzwords. Challenge us further, expand our minds more. Let us all remember that life is more nuanced than not and that there truly is power in your words, so use them wisely.
For more information on how to stay on the cutting edge of inclusive marketing, Contact Us.
Honorable Mentions: BIPOC, POC, Paradigm, Collective Consciousness